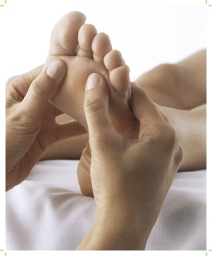 I qualified as a reflexologist in 1993. I have worked as a reflexologist in private practice as well as a variety of other settings: including schools, offices, mental health day centre, women's groups, low cost community clinic, exhibitions and health shows.
I attend a reflexology networking group and enjoy updating my knowledge by regularly attending continued Professional Development Courses.
Reflexology is a complementary therapy which works on the feet or hands to help heal the whole person not just the current symptoms.
Reflexology is ideal for treating and preventing stress related problems. Not only does it treat the immediate physical condition but it is also very relaxing thereby helping to treat the root cause of stress and anxiety. It can also bring relief from a wide spectrum of acute and chronic conditions including those related to:
• Depression and anxiety
• PMS, infertility, pregnancy, the menopause
• Digestive disorders eg. constipation, Irritable Bowel Syndrome
• Sleep disorders, headaches, migraines
• Musculo-skeletal problems, injuries and non-specific
back pain, and whiplash
• Side effects of cancer treatment
Reflexology can be a treatment in itself or can complement existing prescribed medication or treatment. It is also used as part of a long term health and fitness plan. A series of regular treatments is recommended eg. 4-6 and then a review of progress.
Further Information
Gift vouchers are available and are a perfect solution for a very special gift.
Treatment Cost
Reflexology 1hour £38.00